Mix Eco-Xtabs™ Interior All-Purpose Cleaner, Kitchen Cleaner and Bathroom Cleaner 6 pieces
Mix Eco-Xtabs™ Interior All-Purpose Cleaner, Kitchen Cleaner and Bathroom Cleaner 6 pieces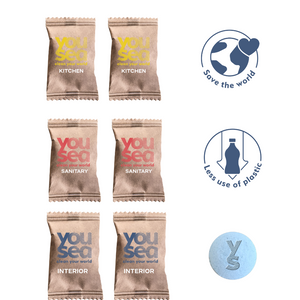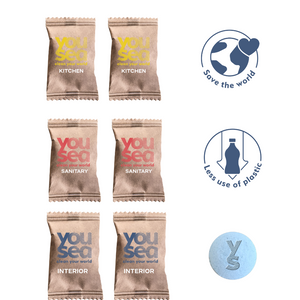 Mix Eco-Xtabs™ Interior All-Purpose Cleaner, Kitchen Cleaner and Bathroom Cleaner 6 pieces
2 Eco Xtabs™ interior cleaner - All purpose cleaner
Mild ecological cleaner for the entire interior. Effortlessly removes dirt, dries streak-free and gives a fresh scent.
Suitable for: .
wood
natural stone
laminate flooring
linoleum
glass
Windows
deuren
tables
cabinets
Biodegradable.
2 Eco-Xtabs™ kitchen cleaner degreaser
Powerful, ecological and effective kitchen cleaner.
The special composition ensures the removal of animal and vegetable fats and oils, proteins and burnt-on dirt on:
floor tiles
counter tops
stainless steel
extractor hoods
frying pans
The product is unscented, biodegradable and phosphate-free and leaves no traces.
2 Eco-Xtabs™ sanitary cleaner
Mild, ecological cleaner for daily cleaning of the entire bathroom
Ideal for: Effortlessly removes water stains, soap scum and lime soap. Prevents limescale, dries without streaks and gives your
toilet
sink
tiling
chrome
taps
a radiant shine and fresh scent.
The product is biodegradable.
Instructions: Add 1 Eco-Xtab ™ to 500 or 750 ml of warm tap water, shake well, the Eco-Xtab ™ dissolves completely and the product is ready for use.
Packing:
Packaging of the tabs is cardboard, so can be disposed of with the waste paper after use
Handy
Excellent cleaning products and little lugging with plastic bottles
Nice product!
Without stripes everything clean surface does not matter.
good mix
I have taken the mix and am trying it out now, ordered a week ago, and I like it very much.
Bought Mix Xtabs
Yes, I like it, but I haven't tried everything yet, had to clean up/empty the old bottles first. Use all the sanitary facilities and the interior clean and smells good.
By the way, it lasts a long time if you use the spray bottle, so that also saves money.
Everything is in it
Everything is included in this mix, so nice and convenient and fresh cleaning. I never thought that I would use so few plastic bottles to keep my house clean.